Penalties for noncompliance can range from $100 to upwards of $1.5 million per year.
Download our Guide to HIPAA-Compliant Chat and ensure that your business is compliant and protected.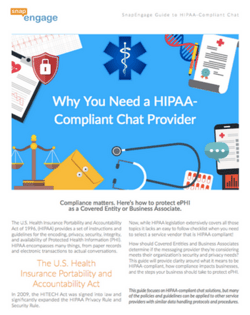 What is HIPAA and why should you care? The U.S. Health Insurance Portability and Accountability Act (HIPAA) provides guidelines around the privacy and security of Protected Health Information (PHI), and if found in violation, the penalties can be very costly.

Whether you're in the health care industry or serve the health care industry, this guide will walk you through:
Whether HIPAA applies to your business
Why compliance matters

How to select a HIPAA compliant provider
Fill out the form to get your free guide.