Penalties for noncompliance can range from $100 to upwards of $1.5 million per year.
Download our Guide to HIPAA-Compliant Chat and ensure that your business is compliant and protected.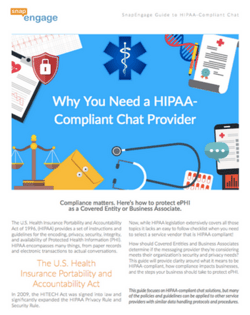 The U.S. Health Insurance Portability and Accountability Act (HIPAA) provides guidelines around the privacy and security of Protected Health Information (PHI), and if found in violation, the penalties can be very costly.
A recent report found that of healthcare providers:
85% use chat to communicate with patients
60% use chat to measure patient satisfaction

40% use compliant chatbots to answer frequently asked questions
Ready to have conversations across more channels?
Fill out the form to get your free guide.