Every website visit is a conversion opportunity.
The ultimate guide to increasing revenue with live chat.
Ongoing studies show that live chat continues to grow as a preferred method of communication for visitors when interacting with websites, with a particular affinity for real-time customer support among the millennial generation.
The key to increasing sales with live chat is engaging your website visitors with impeccable timing, targeted questions and a human touch that turns passive lookers into valued prospects and customers.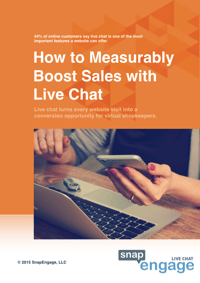 This guide is intended to help sales teams of all sizes learn how to harness the power of live chat to drive revenue.
Key takeaways include:
Preparing for the future of customer engagement.
Evaluating if live chat is right for your business.
Making sense of live chat feature offerings.
Using your live chat tools to close more sales.
Measuring and optimizing your live chat efforts.